African American Civil War Nurse and Teacher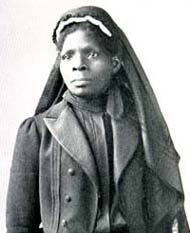 Susie Baker began life as a slave on August 6, 1848, at the Grest Plantation in Liberty County, Georgia, 35 miles south of Savannah. She was the first of nine children of Hagar Ann Reed and Raymond Baker. Her mother was a domestic servant for the Grest family.
The Grests treated Susie and her brother with great affection, their childless mistress even allowing them to sleep on her bed when her husband was away on business. This easy-going atmosphere, Susie's first experience of mutual trust between black people and white, became part of the standard by which she judged all later relationships with white people.
About 1854 Mr. Grest allowed Susie and her brother to go to Savannah to live with their grandmother Dolly Reed, who had been freed earlier by Mr. Grest. Mrs. Reed was determined that Susie would not be denied an education, even though it was a crime at the time to educate black children. Reed's neighbor and friend, Mrs. Woodhouse, was a free woman who had a secret school for slave children in her home. Every day for the next two years, Susie and her brother sneaked into Mrs. Woodhouse's school, where they learned to read and write.
Susie wrote:
We went every day about 9 o'clock, with our books wrapped in paper to prevent the police or white persons from seeing them. We went in, one at a time, through the gate, into the yard to the L Kitchen, which was the schoolroom. She had 25 to 30 children whom she taught, assisted by her daughter Mary Jane. After school we left the same way we entered, one by one. The neighbors would see us going in sometimes, but they supposed we were learning trades, as it was the custom to give children a trade of some kind.
Then, Susie was sent to "a Mrs. Mary Beasley until May 1860, when she told my grandmother she had taught me all she knew, and grandmother had better get someone else who could teach me more, so I stopped my studies for awhile."
I had a white playmate named Katie O'Connor, who lived on the next corner of the street from my house, and who attended a convent. One day she told me if I would promise not to tell her father, she would give me some lessons. On my promise not to do so, and getting her mother's consent, she gave me lessons about four months, every evening. At the end of this period she was put into the convent permanently, and I have never seen her since.

A month after this, James Blouis, our landlord's [white] son, was attending the High School, and was very fond of grandmother, so she asked him to give me a few lessons, which he did until the middle of 1861, when the Savannah Volunteer Guards, to which he and his brother belonged, were ordered to the front under General Barton.
Susie was sent to live with her mother for a short time, as the war came closer.
On April 1, 1862, about the time the Union soldiers were firing on Fort Pulaski [near Savannah], I was sent out into the country to my mother. I remember what a roar the guns made. They jarred the earth for miles. The fort was at last taken by them.

Two days after the taking of Fort Pulaski, my uncle took his family of seven and myself to St. Catherine's Island. We landed under the protection of the Union fleet, and remained there two weeks, when about thirty of us were taken aboard the gunboat P_______, to be transferred to St. Simon's Island, and at last, to my unbounded joy, I saw the 'Yankee.'

After we were all settled aboard and started on our journey, Capt. Whitmore, commanding the boat, asked me where I was from. I told him Savannah, Georgia. He asked if I could read: I said, 'Yes.' Can you write? he next asked. 'Yes, I can do that also,' I replied, and as if he had some doubts of my answers he handed me a book and a pencil and told me to write my name and where I was from. I did this; when he wanted to know if I could sew. On hearing I could, he asked me to hem some napkins for him.

He was surprised at my accomplishments (for they were such in those days), for he said he did not know there were any Negroes in the South able to read or write. He said, 'You seem to be so different from the other colored people who come from the same place you did.' 'No,' I replied, 'the only difference is, they were reared in the country and I in the city.' That seemed to satisfy him, and we had no further conversation that day on the subject.
In April 1862 Susie, then 14 years old, and many other African Americans were taken on a boat by Union soldiers to St. Simon's Island, occupied at the time by Union forces. Within days her educational advantages came to the attention of army officers, who offered to obtain books for her if she would organize a school. She agreed to do so and requested books and testaments (Bibles).
She thereby became the first black teacher for freed African Americans in a freely operating freedmen's school in Georgia. In her little school at Gaston Bluff, Susie taught forty children in day school and "a number of adults who came to me nights, all of them so eager to learn to read, to read above anything else." She taught there until October 1862, when the island was evacuated.
At St. Simon's she met Edward King, an African American army sergeant. She worked with the First Regiment of South Carolina Volunteers, which was made up of slaves who had been freed by the Union Army. It was later renamed the 33d Regiment U.S. Colored Troops, organized by Major General David Hunter of the Union Department of the South and commanded by Colonel Thomas Wentworth Higginson of Massachusetts.
At some point during her first year there, Susie Baker married Edward King. For three years she moved with her husband's regiment, serving as nurse and laundress, and teaching many of the black soldierse to read and write during their off-duty hours. Together they served until the 33rd Regiment was mustered out in February 1866.
In January 1863, Susie began to nurse the wounded men who returned to camp from a raid up the St. Mary's River, which divides Georgia and Florida. In February 1863, there were several cases of varioloid (a mild form of smallpox) in the camp. The doctor was the only person who was supposed to tend to these patients, but Susie volunteered to assume responsibility for caring for the sickest men.
Susie wrote in her diary about supply shortages and her nursing work:
I was always happy to know my efforts were successful in camp, and also felt grateful for the appreciation of my service. I gave of my services willingly for four years and three months without receiving a dollar.
She often visited the sick and injured at the first regimental hospital for black soldiers in Beaumont, South Carolina, where she worked alongside Clara Barton, who later founded the Red Cross. Susie continued to serve as a nurse for the United States Army until the end of the war in 1865.
In 1866 she and Edward returned to Savannah, where she established a school for the freed children. She became pregnant with her first child shortly afterward. Edward King died suddenly in September 1866, a few months before the birth of their son.
Image: Susie King Taylor's Schoolhouse
Savannah, Georgia, 1866
In 1867 Susie returned to her native Liberty County to establish another school. In 1868 she again relocated to Savannah, where she continued teaching freedmen for another year and supported herself through small tuition charges, never receiving aid from the northern freedmen's aid organizations.
During the 1870s, Susie lost her students when free schools were opened in Savannah, and she eventually took a job as a domestic servant for a wealthy white family. She traveled to Boston with her employers, and while there met and married Russell Taylor in 1879. She resided in Boston for the rest of her life, returning to the South only occasionally.
She still loved nursing, so she joined and then became president of the Women's Relief Corps, a national association for the veterans of the Civil War. She worked for that organization for the remainder of her life.
Susie King Taylor was asked many times by the Army and the Women's Relief Corps to write a book about her experiences. She finally agreed and published her autobiography, Reminiscences of My Life in Camp: A Black Woman's Civil War Memoirs, in the early 1900s. She was the only African American woman to publish a memoir of her wartime experiences.
In the last chapter in her book, she writes:
While in Shreveport, I visited ex-Senator Harper's house. He is a colored man and owns a large business block, besides a fine residence on Cado Street and several good building lots. Another family, the Pages, living on the same street, were quite wealthy, and a large number of colored families owned their homes, and were industrious, refined people; and if they were only allowed justice, the South would be the only place for our people to live.

Justice we ask,–to be citizens of these United States, where so many of our people have shed their blood with their white comrades, that the stars and stripes should never be polluted.
Susie received a letter in 1902 from the commanding officer of the First South Carolina Volunteers, in which he stated:
I most sincerely regret that through a technicality you are to be barred from having your name placed on the roll of pensioners, as an Army Nurse; for among all the number of heroic women whom the government is now rewarding, I know of no one more deserving than yourself.
Susie King Taylor died in 1912 in Boston at the age of sixty-four. She is buried in Mount Hope Cemetery in Roslindale, Massachusetts.
SOURCES
Susie King Taylor
Susie King Taylor (1848-1912
Documenting the American South: Susie King Taylor