Feminist, Author and Social Reformer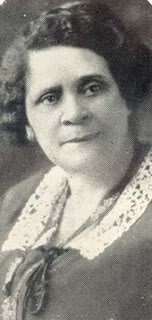 Hallie Quinn Brown was an abolitionist, educator, writer and women's rights activist in the Civil War era. She was born March 10, 1845 in Pittsburgh, Pennsylvania, to former slaves, Thomas and Frances Scroggins Brown. Both were well-educated and actively involved with the Underground Railroad.
In 1864, in the midst of the Civil War, Hallie moved with her parents and five siblings to Chatham, Ontario, where her father earned his living as a farmer, and the children attended the local school.
In 1870, the family settled in Wilberforce, Ohio, so Hallie and her younger brother could attend Wilberforce College, a primarily black institution. Hallie graduated in 1873 with a Bachelor of Science degree.
After graduation, Brown began teaching in Mississippi on the Senora Plantation, to help educate southern blacks during Reconstruction. She taught at plantation schools and public schools in Mississippi and South Carolina for 12 years. From 1885 to 1887, Hallie served as a dean at Allen University in Columbia, South Carolina.
Brown returned to Ohio and taught in Dayton public schools from 1887 to 1891, and opened a night school for migrants from the South. During that time, Brown studied oratory, and began a career in public speaking. In 1892, she was appointed dean of women at Tuskegee Institute, where she worked with Booker T. Washington.
She began traveling and lecturing about African American culture. She also authored several collections of prose. Her writing focused on such topics as the importance of history and social change. From 1893 to 1903, she served as professor of elocution at Wilberforce University on a limited basis.
In 1894 Brown's work as a lecturer and educator took her to Europe, where she remained for five years, spending most of her time in the United Kingdom, although she also visited other countries. She was presented to Queen Victoria in 1897, and again in 1899. She also spoke for temperance groups and represented the United States at the International Congress of Women, meeting in London in 1899.
After returning to the United States, she took up the cause of women's suffrage and full citizenship for women, as well as civil rights for black Americans. From 1903 to 1910, she remained affiliated with Wilberforce and raised funds for the construction of a new men's dormitory.
From 1905 to 1912, she also served as president of the Ohio State Federation of Colored Women's Clubs. From 1915 to 1919, Brown, then in her sixties, taught freshman English at Wilberforce. She co-founded the National Association of Colored Women, for which she served as president from 1920 to 1924, and acted as its honorary President until her death.
During that time, she pursued two major projects: the maintenance of Fredrick Douglass' home as a memorial in Washington DC, and the establishment of the Hallie Q. Brown Scholarship Fund for the education of women.
Brown was active in Republican politics during the 1920s and addressed the party's national convention in 1924, where she took the opportunity to speak up for the rights of blacks and women. Her lifetime spanned an era when African Americans faced daily attacks because of their heritage. Her commitment to the betterment of her people and her dedication to presenting a more accurate image of blacks are evident in her work.
Brown never married. Health problems forced her to retire from Wilberforce in 1923, but she did not retire from all activity. She continued to lecture and write.
In 1925, she protested the segregated seating at the Washington (DC) Auditorium, which was being used for a music festival by the International Council of Women. Two hundred black entertainers boycotted the event, and some black participants left in response to her speech.
In 1926, when she was eighty-one years old, her best known book came out: Homespun Heroines and Other Women of Distinction, a collection of sixty biographies (one-third written by Hallie) of black women born in the United States or Canada from the mid-1740s to 1900.
Hallie Quinn Brown died on September 16, 1949, at her home in Wilberforce, Ohio, of coronary thrombosis.
Two buildings were named in her honor: the Hallie Quinn Brown Community House in St. Paul, Minnesota, and the Hallie Q. Brown Memorial Library in Wilberforce, Ohio.