One of the First Women Artists in the United States
Vinnie Ream (1847–1914) was an American sculptor whose most famous work was the statue of Abraham Lincoln in the U.S. Capitol rotunda. In 1866, at the age of 18, Ream was selected by Congress to sculpt a memorial statue of Lincoln, making her the first woman commissioned to create a work of art for the United States government. Ream later created sculptures of Samuel Kirkwood and Sequoyah for the National Statuary Hall.
During her career, Ream sculpted portraits of the likes of women's rights leader Susan B. Anthony; abolitionist Henry Ward Beecher; former slave Frederick Douglass; 20th President of the United States James A. Garfield; journalist Horace Greeley; Hungarian composer and pianist Franz Liszt; as well as numerous U.S. senators and congressmen.
Lavinia 'Vinnie' Ellen Ream was born on September 25, 1847 near Madison, Wisconsin, the youngest daughter of Robert and Lavinia Ream. The family moved several times during Vinnie's childhood due to the demands of her father's job as a government land surveyor and early Wisconsin Territory official. The Reams also operated a stage coach stop, one of the first hotels in Madison, in their home. Guests slept on the floor.
When she was seven years old, Vinnie's family moved to Washington, DC. In 1857, they moved to Missouri so her father could take a surveying job there. During this time, Vinnie attended Christian College, a school for young women in Columbia, Missouri, where she studied art, literature and music. Vinnie was introduced to James Rollins, a local lawyer and politician, as one of the school's star pupils.
When the Civil War began in 1861, the Ream family was in Fort Smith, Arkansas. Vinnie's brother Robert Ream enlisted in the Confederate army, while the rest of the family managed to work their way through the Confederate lines back to Washington, DC. Her father, who was ill with rheumatism, got a job with the government, but could only work part time.
Though she was only 15 years old, Vinnie helped to support her family as one of the first women to be employed by the Federal Government as a clerk in the Dead Letter Office of the United States Postal Service (USPS) from 1862-1866, for $50 a month. To help with the war effort, she wrote letters for the wounded soldiers in Washington, collected materials for the U.S. Sanitary Commission, and sang in hospital concerts and local churches.
In 1861 Vinnie's friend from Missouri, James Rollins, was elected to the U.S. House of Representatives. In 1863, Ream and Rollins visited the studio of sculptor Clark Mills to request a sculpture for Ream's old school, Christian College. Mills, the most prominent Washington sculptor at that time, had created the statues of Andrew Jackson in Lafayette Square and George Washington in Washington Circle.
Career in Art
With Rollins' help Ream was soon established as an assistant in Clark Mills' workshop. Her artistic talents blossomed under Mills' instruction, and she accepted commissions to create portrait busts of prominent individuals and was soon earning enough money to quit her job at the post office. Ream developed many personal connections with the Washington power brokers who visited Mills' studio.
Ream, renowned for her beauty and dark eyes, quickly found herself in the midst of the masculine world of politics in the nation's capitol. Working in Mills' studio, she sculpted such prominent figures as Representative Thaddeus Stevens, journalist Horace Greeley and Lieutenant Colonel George Armstrong Custer. Ream seemed to understand at the tender age of 17 the importance of building not only her artistic, but also her social, portfolio and was able to enhance both under the tutelage of Mills.
Ream was always deceptively small. Contemporary accounts put her height at just under or at five feet, her weight at just 90 pounds. She wore her rich black hair in the long, ornate rings so popular with Victorian Americans, and was described as being bright eyed and full of energy. That she was ambitious there is little doubt; but Victorian society frowned on ambitious women, so Ream cultivated a sweet and demure manner.
After Abraham Lincoln's death, Congress offered a $10,000 commission for the creation of a statue in his honor. When Vinnie Ream applied for the commission to sculpt a life-size statue of the recently assassinated president, she had not made anything more ambitious than a bust. She had not studied anatomy, as American sculptor Harriet Hosmer did, nor did her family have money with which to buy influence.
Ream had earlier made a clay bust of Lincoln in Mills' studio, and told stories of how she had wanted to go to the White House and model a bust from life, that Lincoln had initially refused but then relented upon hearing that she was poor, allowing her to observe him at his desk for a half an hour per day over several months.
Unfortunately, there is no evidence to corroborate that she was ever actually at the White House. Further, when Ream wrote Mary Todd Lincoln requesting her endorsement, Mrs. Lincoln responded forcefully that she was unaware of Ream ever visiting Mr. Lincoln and was quite sure it had never happened.
The country's best sculptors competed for the commission, but Ream's supporters on Capitol Hill crafted a bill that would directly confer the Lincoln commission on her. When a few Eastern senators questioned whether Ream was qualified for the task, her supporters championed her as the "this young scion from the West, from the same land which Lincoln came from – a young person who manifests intuitive genius…"
The bill passed on July 28, 1866; Ream won the $10,000 commission to sculpt Lincoln's full-size Carrara marble statue, becoming both the first woman and the youngest individual to receive an art commission from the United States government. She was nonetheless criticized for her lack of skill, her gender and her age – she was 18 when she signed the contract in 1866.
When Ream was awarded the contract, she was given a room in the basement of the Capitol as a studio. Using the bust she had made earlier as a starting point, she modelled the rest of the statue in clay. To get the measurements for the statue, she was given the clothing President Lincoln had been wearing the night he was assassinated.
Her studio became a popular meeting place for congressmen, senators, cabinet officials, diplomats and journalists – she sometimes stopped her work to make busts of prominent visitors. Among those who visited her studio were Civil War General Ulysses S. Grant, feminist Elizabeth Cady Stanton and Civil War photographer Mathew Brady.
In 1869, once her clay model of Lincoln was done, she contracted with a Washington sculptor, Fisk Mills, to cast the whole in plaster, which was then shipped to Rome. Ream and her parents then sailed for a two-year stay in Europe. She was nearly twenty-two years old, and her social success continued unabated while she and her parents toured England, France and Germany.
Then it was on to Rome to produce a finished marble figure of Lincoln from the plaster model. From the quarries of Cararra, Ream chose the purest white marble for the finished statue. As was the practice of both male and female sculptors, Ream had her full-size model carved from the block of marble by skilled Italian stonecarvers.
Ream did not neglect the social and business necessities of an American artist operating a studio in Italy. She invited the artist community in Rome, both Italian and American, to view her work – particularly, of course, the Lincoln. Ream kept a guest book from December 1869 until October 1870, during which time at least 500 people trooped through her studio. She returned to Washington in late 1870.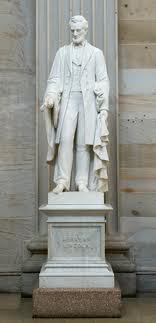 Image: Sculpture of Abraham Lincoln
On January 25, 1871, Vinnie Ream's white marble statue of President Abraham Lincoln was unveiled in the Capitol Rotunda, and she became instantly famous at the age of 23. President Ulysses S. Grant, members of Congress and other dignitaries were in attendance.
The statue depicts a solemn Lincoln. The President's head is bent slightly forward with his eyes fixed upon the viewer. His right leg is slightly bent and his right arm is extended. He is looking down toward his right hand, which holds the Emancipation Proclamation. His left hand clutches his flowing cloak.
To provide just a peak at the controversy and back-biting that surrounded Vinnie Ream's sculpture of Abraham Lincoln – in 1873 Mark Twain described a tour through the United States Capitol in his novel of political corruption, The Gilded Age.
Twain advises the tourist to pass up a chance to view Washington from the Capitol's new dome because to get there…
…you might have to pass through the old part of the building, and you could not help seeing Mr. Lincoln, as petrified by a young lady artist for $10,000 – and you might take his marble Emancipation Proclamation, which he holds out in his hand and contemplates, for a folded napkin; and you might conceive from his expression and his attitude, that he is finding fault with the washing. Which is not the case. Nobody knows what is the matter with him; but everybody feels for him.
Never taken very seriously as a work of art, Ream's Lincoln has gained anonymity amid the large collection of unremarkable monuments to political figures, but when commissioned by Congress, it was at least as controversial as Twain suggests, largely because of the "young lady artist" who created it.
Ream stayed in Washington and maintained her congressional connections, opening a studio and salon at 235 Pennsylvania Avenue. By 1873, she had become the sole provider for her family, and the money from the Lincoln statue had been spent. She was unsuccessful in the competition for the equestrian statue of Civil War general, George H. Thomas.
She pursued a commission of $20,000 to sculpt a bronze monument to Admiral David Farragut in 1873. Farragut, who had just died in 1870, was one of the great naval heroes of the Civil War, famous for his cry of "Damn the torpedoes, full speed ahead" at the Battle of Mobile Bay. She faced stiff competition from more accomplished sculptors, and again she energetically worked her supporters on Capitol Hill.
Twenty-four sculptors would officially compete for the honor, but it seems the Admiral's widow, along with General William Tecumseh Sherman, head of the selection committee, wanted Vinnie Ream. This kept her at the center of Washington society until the monument was completed.
Working from photographs of the admiral, Ream took three years to complete a seven-foot plaster cast model. She then spent several more years at a special studio set up for her at the Washington Navy Yard, working on casting the final ten-foot bronze statue from the propellers of the Admiral's flagship, the USS Hartford.
Ream participated in the lavish dedication ceremony for the Farragut monument in April 1881. Assorted military units marched the traditional route up Pennsylvania Avenue and around to Farragut Square, where President James A.Garfield made his first public address since being inaugurated. Ream and Mrs. Farragut shared honors with the president on the dedication stand.
In the meantime, Ream had modeled other distinguished subjects. George Armstrong Custer sat for a portrait bust by Ream in 1875. In 1876, she exhibited her work at the Centennial Exposition. In November 1877, she produced a model for a Robert E. Lee statue in Richmond.
Marriage and Family
During her time at the Washington Naval Yard, Ream had met Lieutenant Richard Hoxie of the Army Corps of Engineers, a West Point friend of Farragut's son; they were married in 1878. After their marriage Ream gave up her career to become a traditional wife and mother. It would have been considered improper for a married woman of Vinnie's social status to work as an artist.
The couple moved about the country a good deal, as Hoxie was transferred from assignment to assignment. Whenever possible, they stayed in Washington, but the period of Ream's Capitol influence seemed now to be over. Most of her summers were spent in Iowa City, Hoxie's hometown. Their only child, also named Richard, was born in 1883.
Finally the Hoxies moved to 1632 K Street in Washington, DC near Farragut Square. Ream became one of the most popular hostesses in the city, and she often played the harp for small gatherings of friends. Her works, America, The West and Miriam, were exhibited at the 1893 World's Columbian Exposition in Chicago.
In 1906, the State of Iowa commissioned Ream to create a bronze statue of Samuel Kirkwood, the governor of Iowa during the Civil War, for the National Statuary Hall in the Capitol building in Washington. The National Statuary Hall is comprised of 100 statues donated by the 50 states in the Union to honor persons notable in their history.
Richard Hoxie allowed (???) his wife to take up sculpture again. However, the intervening years had not been kind to Vinnie Ream. She was 59 years old and suffering from chronic kidney disease. However, she went to work and the Kirkwood statue was completed in 1913.
In 1912, she was asked by the State of Oklahoma to create a bronze monument of Chief Sequoyah, the inventor of the written Cherokee language and a tribal leader. The statue Ream designed shows Sequoyah holding a tablet that contains the Cherokee alphabet in his left hand.
In the summer of 1914, Vinnie Ream had just completed the plaster model of Sequoyah when she suffered an acute attack of uremic poisoning. She was taken to Washington for treatment, where she struggled to survive for several months.
Vinnie Ream died on November 20, 1914 at age 66. Her grave in Arlington National Cemetery is marked by a replica of her sculpture of Sappho.
After Ream's death, her friend and fellow sculptor George Zolnay cast her plaster model in bronze and completed the monument to Sequoyah. It was unveiled in 1917 – the first free-standing statue of a Native American to be placed in the National Statuary Hall.
Works by Vinnie Ream
• Sappho (1865–1870)
• Thaddeus Stevens (1865)
• America (1870)
• The West (1870)
• Miriam (1870)
• Abraham Lincoln (1871)
• Admiral David Farragut (1881)
• Edwin B. Hay (1902-06)
• Samuel Kirkwood (1906)
• Sequoyah (1912)
SOURCES
Wikipedia: Vinnie Ream
Vinnie Ream, Christian College's First Artist
Sculptor of the Abraham Lincoln Statue in the U. S. Capitol Building