Female Soldier from Illinois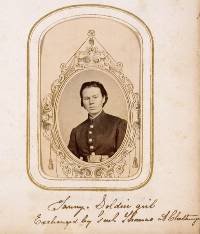 Frances Hook was born in Illinois in 1847. When she was three years old, both her parents died, leaving her to be raised by her older brother. Frances and her brother were living in Chicago when the Civil War began.
Inscription below photograph:
'Fanny the soldier girl Exchanged by Genl Thomas at Chattanooga.'
She was 14 years old when her brother announced that he was going to enlist in the Union Army. Since her brother was her only living relative, and she did not want to be left alone, Frances decided to disguise herself as a man and follow him to war.
Frances cut her hair short and told the recruiting officer she was 22 years old. On April 30 1861, she enlisted in the 11th Illinois Infantry Regiment as Private Frank Miller. She and her brother served their 90-day enlistment without her gender being discovered.
They then re-enlisted in the 11th Illinois for 3 more years on July 30, 1861. Their regiment fought at Fort Henry and Fort Donelson. Her brother was killed during the Battle of Shiloh, and his death had such a devastating effect on Frances that she could not continue serving with the 11th Illinois, where everything reminded her of her brother.
But Frances Hook was determined to continue her service with the Union Army. She assumed a new alias, Frank Henderson, and enlisted in the 33rd Illinois Infantry. She had served only a few months when she was wounded in the shoulder at the Battle of Frederickstown, Missouri. It was not a life-threatening wound, but one that needed immediate medical attention.
While she was being cared for in the regimental hospital, the doctor discovered that she was a woman, more accurately, a teenager. Union officials discharged her and made her promise to go home, but she had no home nor any living relatives. Army life was all she knew.
Hook soon enlisted in the 90th Illinois Infantry, a new regiment that had not yet seen battle. In the summer of 1863, while marching through Alabama, she got permission to enter an empty house to look for food and medicine. She found several items and began to pack them in her bag when two Confederate soldiers came out of hiding and took her prisoner.
She was imprisoned in Atlanta, Georgia. Soon thereafter, she made a desperate attempt to escape. A guard saw her and ordered her to stop, but she kept running. He fired at her, wounding her in the thigh. She was carried into the prison hospital, where the doctor dressing her wound discovered her gender.
She was assigned a separate room at the prison, and authorities put her on the list of prisoners to be exchanged. On February 17, 1864, Frances was one of 27 Union prisoners who were transferred at Graysville, Georgia. She was then transported to a Nashville hospital, where this picture was taken. She remained there until she had recovered from her wound.
Frances Hook was discharged and sent home to Illinois but speculation remains that with nowhere else to go she reenlisted and continued to serve until the end of the war.
Frances Hook ultimately married in 1908, and her daughter later applied for a military pension based on her mother's Civil War military service.
Contemporary authors of social history and those focusing on women's studies have put the number of female soldiers serving in Northern and Southern armies as high as several thousand, but the true identities of only a handful are actually known.