Confederate Spy in the Civil War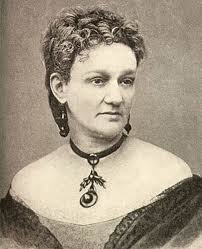 Born into an assimilated Jewish family in the South, Eugenia Phillips, like many Southern Jews, was a strong supporter of the Confederate cause. Beginning in 1861, Phillips aided Confederate spy networks and secretly passed material aid to Confederate troops. The family later moved to Georgia, where Phillips supposedly toned down her outspoken support of the Confederacy.
Eugenia Levy was born in Charleston, South Carolina in 1820 to prominent Jewish parents. One of six daughters, Eugenia was well-educated, outspoken and fiery-tempered. At age l6, she married a prominent Jewish lawyer, Philip Phillips, who was 13 years her senior.
The couple moved to Mobile, Alabama, where he had already established a successful law practice. He and Eugenia lived there for the next 18 years. She gave birth to nine children, seven of whom were born in Mobile.
Philip served as chairman of the Alabama Democratic Party and served two terms in the Alabama State Legislature. The family moved to Washington, DC when Philip was elected to Congress in 1853. Eugenia loved the social whirl of the capital, and there gave birth to her last two children. In 1855, Philip declined reelection to a second term in Congress, and set up a private practice, handling Supreme Court cases.
When the Civil War began, Philip supported the North and wanted to remain in Washington, but Eugenia was an outspoken Southern sympathizer, and was suspected of being a member of Rose O'Neal Greenhow's Confederate spy ring.
In August 1861, U.S. soldiers entered the Phillips home. This is Eugenia's description of that event:
The rooms soon swarmed with armed men, and we were peremptorily commanded not to stir from our positions. As the arrest included all who were in the house, I endeavored to explain that Miss M. was only a visitor and had no connection with our family, but the explanation was fruitless. Despite, however, of orders and the presence of soldiery, we all rushed upstairs to our rooms, children crying, servants amazed, and confusion itself made worse confounded. Passing Phebe, my confidential maid, on the stairway, I hurriedly whispered: 'The box in my washstand, destroy.'
That box held all of Eugenia's private papers, which the maid concealed in her bosom.
The troops found no evidence of treason in the Phillips home, but they arrested Eugenia and two of her daughters, and imprisoned them in the attic of Mrs. Greenhow's home. Eugenia and Greenhow were put under guard and not allowed to speak to each other.
Philip's friend, Edwin M. Stanton, who later became President Abraham Lincoln's Secretary of War, intervened on Eugenia's behalf. Philip won their release three weeks later, with the understanding that they would move south.
They lived for a time in Richmond, where Eugenia delivered Union military maps and plans that she had smuggled out of Washington to Confederate President Jefferson Davis.
The Phillips family then settled in New Orleans, Louisiana, where they were living at the time of its surrender to Union forces in early 1862. The commander of those forces was General Benjamin Butler, who quickly became quite unpopular with the citizens of that city, especially the women, who did not hesitate to show their contempt for the Union soldiers.
On May 15, 1862, Butler issued what he called The Women's Order, which read:
As the officers and soldiers of the United States have been subjected to repeated insults from the women (calling themselves ladies) of New Orleans, in return for the most scrupulous non-interference and courtesy on our part, it is ordered, that hereafter, when any female shall, by word, gesture, or movement, insult or show contempt for any officer or soldier of the United States, she shall be regarded and held liable to be treated as a woman of the town plying her avocation.
A few days later, the citizens of New Orleans were notified that a funeral procession would pass through the French Quarter, and that civilians were expected to show respect for the deceased Union soldier.
As the cortege passed under her balcony, Eugenia Phillips was heard laughing out loud. She was
hosting a party for her children that day, and she always claimed that she was laughing at the children's antics, not the funeral procession.
The general, who had become known as 'Beast Butler,' did not believe Eugenia. He arrested her and ordered that she be imprisoned until further notice with other exiled Confederates on Ship Island, Mississippi, in the Gulf of Mexico.
Eugenia wrote:
I was allowed to say good-bye to my family at my prison, the children and Mr. P. perfectly heartbroken, while my own heart, almost full, still kept courageous and avoided the least indulgence of any weakness. Up to this time, nobody could be made to believe that such an unjust sentence as tearing me from my family to be sent to such a fearful place as Ship Island would ever be carried into effect, so that nothing was done for my comfort or subsistence.
On June 30, 1862, Eugenia left the city accompanied by one female servant. As she was being taken to a boat for her trip to Ship Island, she said to Butler, "It has one advantage over the city, sir, you will not be there."
On arrival at Ship Island, she and her maid were kept for several days in an abandoned railroad car, plagued by mosquitoes and bad water. General Dow, the island's commanding officer, posted sentries with instructions that no one would speak to her during her stay.
Conditions improved when they were transferred to new quarters, but Eugenia still wrote bitterly of the sand, heat, rain, food and general living conditions on a barrier island. "Ship Island is a narrow sand bar formed from the workings of the water all around. Not a tree or blade of grass shades the eye or person from the fearful heat."
Eugenia did not ask to be released or to receive special privileges, even when her health began to fail. She received the same rations and faced the same threat of contagious diseases as her fellow prisoners.
News of her miserable condition became known in New Orleans, and General Butler evidently regretted turning her into a martyr. Eugenia had instructed her husband not to intervene on her behalf, but he feared for her health and pleaded with the general to release his wife.
On September 11, 1862, Eugenia Phillips reluctantly took an oath not to give aid, comfort or information to the enemies of the United States and was allowed to leave Ship Island.
She wrote of one of her jailers:
A few hours ere I was released, he entered my prison, extending his hand, which, of course, I had no desire to touch. Addressing me, he said: 'Madame, I am not in the habit of calling to see the prisoners, many of whom have insulted me with rude notes, but I have called to say to you that I thank you for your politeness, good breeding and ladylike qualities. I am nothing but a soldier under orders; but for this, I might have been less rigorous.'

I felt my heart rise with indignant passion when all I had suffered passed rapidly through my brain, but I controlled myself and, replying, said: 'Sir, do not imagine that my conduct during my imprisonment had for its guide any other motive than a holy and sacred respect for the cause for which I have suffered. To the women of the South, I look for approval, while my own self-respect sustained me through all your persecutions. I cannot accept your tardy sympathy. I only hope God will forgive you for all you have done to me.' He vanished after this, and I went off to the boat, weak and very sick.
When Eugenia arrived in New Orleans, very early in the morning, there was no one to meet her. When she rang the bell at her home, the servant who opened the door closed it in her face. He thought she was an apparition. The Yankees had not told anyone in her family that she was being released.
Once again, her family had to leave their home behind and depart from Union-occupied territory:
Settling in La Grange, Georgia, we at last found a home, devoting our lives and fortune to the support and clothing of the poor soldier, nursing the wounded and dying, alleviating in every way the desolation and misery which civil war surely brings. Our women were all heroines; everything like dress, amusement or frivolity was abandoned, until Providence in his wisdom decided against us. To accept bravely was all that was left us, and to wiser heads and brighter pens is left the sad duty of teaching to mankind that in this American war, history does not repeat itself.
Eugenia Philips died in Georgia in 1902, at the age of 82.