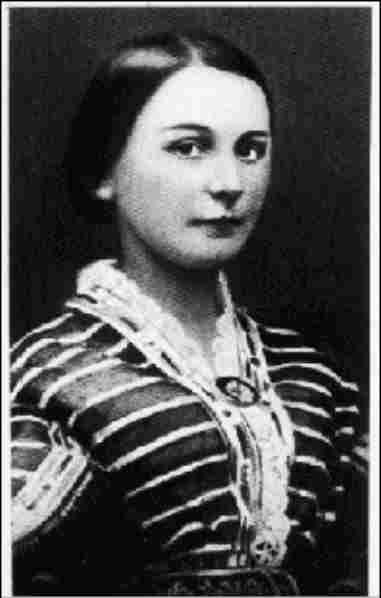 Betty Churchill Jones was born at Ellwood Plantation in Spotsylvania County, Virginia, near Fredericksburg. In the years following the Revolutionary War, brothers William and Churchill Jones went about acquiring homesteads in the Wilderness area of Virginia. William and his first wife built Ellwood in the 1790s. Churchill acquired the Falmouth mansion, Chatham, in 1806.
Churchill Jones died in 1822, leaving Chatham to his brother, William, who was well advanced in years and already owned one large estate. He transferred Chatham to Judge Coalter, the husband of his only daughter, Hannah. He could not have bequeathed it directly to Hannah – it was unlawful for women to own property.
In 1828, William Jones, in his 79th year, married Lucy Gordon, who was then 16 years old. From that marriage one child was born, Betty Churchill Jones. When Betty was young, she was sent to live with her half-sister, Hannah, at Chatham so she could attend school in Fredericksburg.
Betty wrote of her childhood:
I attended Mrs. Little's school in Fredericksburg for 13 years. I was very happy under her wise and kind control, and I formed while under her care a warm and lifelong friendship for her two daughters.

I continued through all these years to spend my summers at Ellwood with my parents. These were happy seasons for me, for I was petted and made much of, not only in my own home, but by all the circle of my father's friends. One of the historic homes of the neighborhood where I was a frequent visitor in those days, and later bought by my stepfather, Mr. Green, was Greenwood.

My sister, Mrs. [Hannah] Coalter, always accompanied me in my summer visits to Ellwood, thinking the air was purer there in the summer, and that the change was beneficial to her health.
When William passed on in 1845 at the age of 95, he left Ellwood to his wife Lucy on the condition that she would never remarry. But, within two years, she gave up Ellwood to her daughter so she could marry John Green of Culpeper.
Betty Lacy wrote of that time:
My father died when I was sixteen, leaving me to the guardianship of his valued and trusted friend, Major William H. Fitzhugh. I continued at school in Fredericksburg until I was 18, which was considered a very mature age for graduation in those days.

It was at Eagle Point [her uncle's estate] that I first met my future husband, Mr. James Horace Lacy, who had taught in the Bryan family and was deeply attached to both Mr. and Mrs. Bryan. Mr. Lacy visited me on my return home. We became engaged and were married the next year, October 19 1848, at Ellwood.

We made our home at Ellwood for several years, but after my sister's death we moved to Chatham. Life flowed peacefully and happily for us, with few events to make history until the breaking out of the war.When the Civil War began, Horace promptly joined the Confederate Army. Betty found it impossible to remain at Chatham alone with her little children, because it was soon within Union lines. She moved to Fredericksburg in the spring of 1861 and stayed there two months with a friend.

Just after the Battle of Seven Pines, I went up to Greenwood [the estate of Betty's mother and stepfather] to meet Mr. Lacy who was making a flying visit home to see me and look after his property. My mother insisted that he should stay and eat his birthday dinner with us, a pleasure for which he had to pay dearly, for his movements were watched and reported to headquarters, and a troop of soldiers was sent to capture him. He tried to escape by the back way but fell and sprained his ankle, and was then captured.
Horace was taken to the prison at Fort Delaware, where he was confined for two months. Betty stayed at Greenwood with her mother during that time. After his release, she went to Lexington and spent the winter with Horace's sisters, Nancy and Lizzie Graham.
During the Battle of Chancellorsville, Ellwood was used as a makeshift hospital. On the evening of May 2, as General Stonewall Jackson was riding back to his lines, his own soldiers mistook his party for Yankee cavalry and fired at them. Two bullets struck the general's arm, and shattered it beyond repair. It was amputated at a field hospital at Wilderness Tavern the following day.
Normally, severed limbs were cremated, but Reverend Beverly Lacy, chaplain of General Jackson's Corps and Horace Lacy's brother, buried the arm in the Lacy family cemetery at Ellwood. The battle was a Confederate victory, but the fatal wounding of one of its most brilliant generals was a heavy blow to the South.
The following autumn, Betty went to Dublin in Pulaski County where Horace was serving as Field Inspector of Transportation. David McGavock, a wealthy farmer, allowed the family to move into a house on his property, where Betty and her children stayed until the end of the Civil War.
[I] returned then to Greenwood. Ellwood was rented out, so that we could not occupy the house. I remained at Greenwood until Chatham could be made habitable. The appearance of the old place when we first returned was heart rending. All the paneling had been stripped from the walls, every door and window was gone, literally only the bare brick walls were left standing.

The trees had been cut down, the yard and garden were a wilderness of weeds and briers, and there were nineteen Federal graves on the lawn. It was not until November that the worst places were sufficiently repaired for us to take possession, and then we had only attempted to restore part of the house.
Chatham was so devastated during the Civil War that the estate had to be sold for taxes in 1872. The family held on to Ellwood until Betty Churchill Lacy's death in 1907.