Abolitionist and Lecturer during the Civil War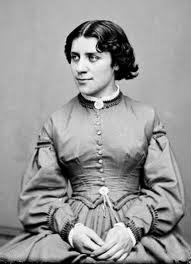 Anna Elizabeth Dickinson was an abolitionist, writer, lecturer and advocate for women's rights. A gifted speaker at a very young age, she significantly influenced the distribution of political power in the Union just prior to the Civil War. She helped the Republican Party gain key positions in the hard-fought election campaigns of 1863, and was the first woman to speak before the U.S. Congress.
Childhood
Anna Elizabeth Dickinson was born in Philadelphia on October 28, 1842, the youngest of five children of Quaker parents. Her father was a dedicated abolitionist who died of a heart attack shortly after giving a fiery antislavery speech in 1844. Since Anna was only two years old, she did not remember her father, but the fact that he died fighting slavery must have influenced her greatly.
Anna was raised by her mother, who taught Anna at home for a while, then sent her to the Friends Select School of Philadelphia, and later studied at Westtown Boarding School until she was 15. Mrs. Dickinson experienced financial difficulties, so Anna earned her keep by working as a copyist and a school teacher while still in her teens.
Anna's career as a speaker was greatly influenced by her association with radical abolitionist William Lloyd Garrison. At age 13, Anna contribuited an emotional anti-slavery essay to Garrison's newspaper The Liberator. He was so impressed by her enthusiasm and intelligence that he offered to help her find speaking engagements. At Anna's request, Garrison soon arranged a number of lectures in Boston, then throughout Massachusetts.
Then Dickinson toured the New England states, and quickly gained popularity. With Garrison's assistance she obtained further speaking engagements across the United States. She began earning modest fees for her lectures, and helped support her family from age 15.
The Civil War
In 1861 Dickinson obtained a clerkship at the United States Mint, and became one of the federal government's first female employees. She was removed from that position for criticizing Union strategy in general and General George B. McClellan in particular at a public meeting.
Anna was also friendly with Quaker abolitionist Lucretia Mott, who preached against slavery in Quaker meetinghouses. With Mott's help, some 800 Philadelphians bought tickets for Dickinson's first major speech, "The Rights and Wrongs of Women." Mott arranged a lecture tour for the 19-year-old girl that was sponsored by the Massachusetts Anti-Slavery Society.
Anna was soon delivering public speeches on abolitionism, women's rights, universal education and politics. This was a rarity. Few women in the Civil War era spoke before a mixed audience, and certainly not about such controversial issues. Her reputation grew so quickly that more than 5,000 people crowded New York's Cooper Institute for her first appearance in that city.
Though she was physically frail and occasionally suffered throat problems, Anna spoke with a powerful voice. She toured the country commenting on the progress of the Civil War and criticizing
President Abraham Lincoln for his refusal to renounce slavery. Her intensity, youth and passion created a stir of attention from the media, as well as from other abolitionists.
As a young unmarried woman, Anna pushed the boundaries of mid-nineteenth century society to its limits and beyond. She had become widely known as an eloquent and persuasive public speaker, but she was having a hard time supporting her mother and sister on the money she was making on the lecture circuit.
By 1863, morale in the North was at an all-time low. President Lincoln and his fellow Republicans were determined to continue the War, but they needed to elect Republicans to positions of power. Anna's big break came when the chairman of the New Hampshire State Republican Committee hired her to deliver the pro-Union message to audiences that were not especially supportive of the war, for a generous fee.
Soon campaign organizers in other states asked Anna to speak for them. She campaigned in Connecticut, Maine, Pennsylvania and New York, speaking eloquently in support of the party's anti-slavery platform and for the preservation of the Union. Averaging a speech every other day, she earned as much as $20,000 a year, more than Mark Twain was getting at the time.
By the end of 1863, the Republicans had scored some key victories in the states where Anna lectured, and she was given much of the credit. The New Hampshire Republican Committee chairman commented:
I regret that Providence has furnished only one woman for such a crisis as this. I wish we had fifty Anna E. Dickinson's scattered all over the country telling people the truth.
In 1864 due to her success in the 1863 elections, Anna was the first woman to speak before Congress. In addition to the president, other military and civilian leaders packed the House floor and its gallery, where she received a standing ovation for her impassioned speech. It was particularly remarkable for such a young woman to capture the attention of well-informed congressmen.
After the Civil War
Anna broadened her political views after the war to include strong opinions on the rights of blacks, Reconstruction and temperance, remaining one of the nation's most celebrated lyceum speakers for nearly a decade. Some of her speeches bordered on the sensational. She addressed venereal disease in a lecture titled "Between Us Be Truth" and polygamy in "Whited Sepulchers."
During this time period, Anna Dickinson also wrote a novel, What Answer? (1868), which featured an interracial marriage set against the backdrop of the Civil War.
She had a complicated relationship with the women's movement after the war. Unlike Elizabeth Cady Stanton and Susan B. Anthony who devoted their energies in support of women's right to vote, Anna sided with suffrage for African American men. Still she forged lifelong relationships with Anthony and journalist Whitelaw Reid.
When her popularity as a lecturer dwindled in the early 1870s she turned to the stage and had a brief career as both a playwright and an actress. In May 1876 she appeared in Boston in a play of her own about Anne Boleyn, titled Crown of Thorns. Both she and the play were dismissed by the critics, and she soon retired from the stage. She wrote several other plays, most of which remained unpublished and unproduced.
Anna Dickinson never recovered from her postwar loss of fame. With middle age came poverty, illness and alcoholism. About that time, she began to struggle with her physical and mental health. As her behavior grew more erratic and paranoia set in, the sister she had supported for years committed Anna to the Pennsylvania State Hospital for the Insane in 1891. Her stay there was brief, but humiliating.
Anna won her freedom and embarked on a series of legal battles against the people who were responsible and was awarded damages, but the experience shook her self-confidence. Fame had obviously come too easily and too early in her life.
Anna Dickinson spent her last 40 years in relative obscurity in the households of friends in New York, where she died on October 22, 1932, just days before her 90th birthday.
Mark Twain on Anna Dickinson:
She talks fast, uses no notes what ever, never hesitates for a word, always gets the right word in the right place, and has the most perfect confidence in herself. Indeed, her sentences are remarkably smoothly-woven and felicitous. Her vim, her energy, her determined look, her tremendous earnestness, would compel the respect and the attention of an audience, even if she spoke in Chinese…
Anna Dickinson's contributions to the abolition of slavery, women's rights and the North's success during the Civil War were substantial, and she deserves our respect and admiration for her achievements. After all, she is often called the Joan of Arc of the Civil War.
SOURCES
Anna Elizabeth Dickinson
Wikipedia: Anna Elizabeth Dickinson
History's Women: Anna Elizabeth Dickinson
National Women's History Museum: Anna Dickinson