Teacher of African American Children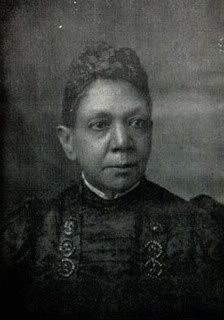 For 37 years Fannie Jackson Coppin was teacher, then principal at the Institute for Colored Youth in Philadelphia, Pennsylvania, making her the first African American woman to receive the title of school principal. During her tenure, she made many improvements at the school, believing that a broader range of education would be necessary to enable African Americans to become self-supporting.
Fannie Jackson was born a slave in Washington, DC, on October 15, 1837. Fannie's grandfather bought his own freedom and that of four of his children, being one. But Fannie's mother, Lucy, remained a slave. In 1849 her aunt Sarah Orr Clark bought Fannie's freedom for $125. Fannie was sent to live with another aunt at New Bedford, Massachusetts.
When she was fourteen years old, Fannie decided that she ought to take care of herself. She took a job as a paid servant in the Newport, Rhode Island, household of author George Henry Calvert, whose cultured and genteel lifestyle influenced her greatly. He was a great grandson of Lord Baltimore, and his wife, Elizabeth Stuart, was a descendant of Mary, Queen of Scots.
During her six years of service with the Calverts, Fannie was allowed one hour every other afternoon to study. Determined to get an education, she used the money she earned to pay a tutor and later attended public schools. Mrs. Calvert taught her domestic skills: darning, to tatting and sewing.
Fannie was then prepared to enter the examination for Rhode Island State Normal School in Bristol, Rhode Island. There her eyes were opened to the field of teaching, and her mission was to make education available to all Black Americans. Having finished the course of study at the Normal School, she felt she had just begun to learn.
With her aunt's assistance, in 1860 Fannie enrolled in Oberlin College in Ohio – the first college in the United States to accept both black and female students. The college's course of study was the same as that at Harvard College. Bishop Daniel Payne, of the African Methodist Church gave her a scholarship of nine dollars a year. During her first year at Oberlin, she boarded in the Ladies' Hall.
Fannie began to experience some health problems and was invited to spend a few weeks with Professor H. E. Peck and his family. As it turned out, she lived with them for several years, until Professor Peck was sent as the first United States Minister to the Republic of Haiti. She was then invited to spend the rest of the school year with Professor and Mrs. Charles H. Churchill. Living in those loving homes, where she was regarded as a member of the family, greatly influenced Fannie's life.
The year before Fannie graduated, Oberlin received an inquiry from the Institute for Colored Youth, which had been established in Philadelphia by the Society of Friends (Quakers). They were searching for an African American woman who could teach Greek and Latin and higher mathematics. Officials at Oberlin replied, "We have the woman, but you must wait a year for her."
While she was still studying at Oberlin, Fannie established an evening school for freed slaves just as the Civil War came to an end, freeing millions of slaves. She was elected to the highly respected Young Ladies Literary Society and was the first African American student to be appointed in the College's preparatory department.
Fannie became the second African American woman to graduate from the college, earning a bachelor's degree in 1865. In September of that year, Fannie began as a teacher at the Institute for Colored Youth in Philadelphia, teaching Greek, Latin and Mathematics. Within a year she was promoted to principal of the Ladies Department.
In 1869 Jackson became principal of the entire Institute, making her the first African American woman to receive the title of school principal, a position she would hold until 1906. During those years, she made many improvements to the school, believing that a broader range of education would be necessary to enable all African Americans to become self-supporting.
At the Centennial celebration in 1876, there were exhibits of the work being done in the trade schools of Europe – just what Fannie was looking for. With the idea of bettering the lives of her people, she lectured in Philadelphia, New York, Washington and everywhere the opportunity arose, in order to raise funds for this new department.
The donations were forthcoming, and in 1879 the Industrial Department was established at the Institute for Colored Youth. The boys were taught bricklaying, plastering, carpentry, shoemaking, printing and tailoring. The girls learned dressmaking, millinery, typewriting and stenography. This first trade school for African Americans in Philadelphia was an immediate success and always had a waiting list for admission.
Having taught the trades, it now became necessary to find work for those students, which was no easy task. Fannie appealed to the public for funds to create new jobs in Philadelphia. She saw buildings being built without a single colored hand being employed in the construction, so from time to time she pounded on those closed doors of industry.
In addition to providing African American youth with education, Jackson founded homes for working and poor women. She was also an influential columnist who defended the rights of women and blacks in Philadelphia newspapers.
Fannie added missionary work to her long list of accomplishments when she married Reverend Levi Jenkins Coppin, a minister in the African Methodist Episcopal (AME) Church on December 21, 1881.
In 1900, her husband was elected one of the Bishops of the AME Church and was assigned to Cape Town, South Africa. In 1902 the couple traveled to South Africa and founded the Bethel Institute, a missionary school which emphasized self-help programs.
In poor health, Fannie retired as principal in 1906, then joined her husband, traveling thousands of miles organizing mission societies. She returned to Philadelphia because of declining health.
Fannie Jackson Coppin died on January 21, 1913.
This woman, born into slavery and poverty, became the forerunner in higher education for blacks, and the pioneer in industrial education. In her 37 years at the Institute for Colored Youth, she trained some of the leaders of her race and defined black education in the late 19th century.
In 1926, a Baltimore teacher training school was named the Fanny Jackson Coppin Normal School in her memory. It is now Coppin State University.