Civil War Nurse and Wife of General Francis Barlow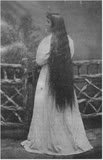 Arabella Griffith Barlow became a Civil War nurse after her husband, Francis Barlow, joined the army in 1861. Barlow began the war as a private in the Twelfth Regiment of the New York Militia. Arabella became attached to the Sanitary Commission in 1862, but nursed her husband back to health after he was wounded several times. She cared for the wounded following several battles, including Chancellorsville and Gettysburg, but soon her own health began to suffer.
Arabella Griffith was born in February 1824 in Somerville New Jersey. She was raised and educated by Miss Eliza Wallace of Burlington, New Jersey, a relative on her father's side. Francis Channing Barlow was 27 years old and practicing law in New York City when the Civil War began. Arabella was 10 years older than Francis and was described as "certainly the most brilliant, cultivated, easy, graceful, effective talker of womankind."
On April 20, 1861, Arabella married Francis Barlow. On April 21, Frank left with his regiment for Washington, DC. Within a week, Arabella followed him and remained with him at Washington, then at Harper's Ferry. The 12th Regiment returned to New York in August 1861, after their 3-month enlistment was over.
In November 1861, Frank joined the 61st New York Volunteers, and Arabella spent the winter with him in camp near Alexandria, Virginia. Now a colonel, he served during the Peninsular Campaign in the spring and summer of 1862 under General George B. McClellan.
Arabella joined the United States Sanitary Commission and reached Harrison's Landing, Virginia, on July 2, 1862. Exhausted, wounded and dying men were arriving there by the thousands. Arabella nursed the wounded and ill soldiers until the army left in late August, 1862.
She joined her husband in the field during the Maryland campaign in September 1862, but she had to go north on business and was unable to return until the day after the Battle of Antietam. Frank had been badly wounded, and she nursed him back to health until he was able to rejoin his regiment in the spring of 1863.
Frank was wounded again during the Battle of Gettysburg in July 1863. His division was overwhelmed by General Jubal Early's Confederates, causing serious losses. During another long period of convalescence, Arabella remained at her husband's side.
Frank returned to the Union Army in the spring of 1864, just in time for the Overland Campaign that began at the Battle of the Wilderness in May. He commanded the First Division of Winfield S. Hancock's II Corps during that series of battles, culminating in the Siege of Petersburg that summer.
At times Arabella was with Frank in the trenches, but during those horrific battles which followed in such bewildering succession, she was always where she was most needed, nursing the sick and wounded.
A friend wrote about Arabella:
We called her 'the Raider.' At Fredericksburg she had in some way gained possession of a wretched-looking pony and a small cart or farmer's wagon, with which she was continually on the move, driving about town or country in search of provisions or other articles as needed for the sick and wounded.

The surgeon in charge had on one occasion assigned her the task of preparing a building, which had been taken for a hospital, for a large number of wounded who were expected almost immediately (from the Battles of the Wilderness and Spotsylvania Court House). I went with my daughter to the building. It was empty, containing not the slightest furniture or preparation for the sufferers, save a large number of bed-sacks, without straw or other material to fill them.

On requisition a quantity of straw was obtained, but not enough for the expected need, and we were standing in a kind of mute despair, when Mrs. Barlow came in. 'I will find some more straw,' was her cheerful reply, and in another moment she was urging her tired beast toward another part of town where she remembered having seen a bale of the desired article earlier in the day.

Half an hour afterward the straw had been confiscated, loaded upon the little wagon by willing hands, and brought to the hospital. She then helped to fill and arrange the sacks, and afterwards drove about the town in search of articles, which, by the time the ambulances brought in their freight of misery and pain, had served to furnish the place with some means of alleviation.
Through all those horrible days she labored incessantly. Her health began to fail, but she ignored the warning. Earlier attention to the threatening symptoms she exhibited might have saved her, but her thoughts were never focused on her own misery.
Image: General Francis Barlow
Arabella remained at Fredericksburg until all of the wounded had been removed, then left with the last hospital ship for Port Royal, where she again cared for the wounded. From there, she went to White House, Virginia, on one of the steamers owned by the Sanitary Commission, and worked in the hospitals after the Battle of Cold Harbor.
From White House she went to City Point on the James River, and arrived there before the battles at Petersburg. Going directly to the front, she labored with the same energy and devotion – as close to the battlefield as she was permitted to be.
Arabella believed she could endure anything for the cause she loved, but hard work, anxiety and privation had weakened her system. She came down with a fever. At the urging of her friends and colleagues, Arabella Barlow immediately went to Washington, but she was beyond help. After several weeks, Arabella Griffith Barlow died of typhoid fever.
The press recorded her death:
Died at Washington, July 27, 1864, Mrs. Arabella Griffith Barlow, wife of Brigadier General Barlow, of fever contracted while in attendance upon the hospitals of the Army of the Potomac at the front.
Dr. W.H. Reed, one of her associates at City Point wrote:
Here, in the open field, she toiled under the scorching sun, with no shelter from the pouring rains, with no thought but for those who were suffering and dying all around her. On the battlefield of Petersburg, hardly out of range of the enemy, among the wounded, with her sympathies and powers of both mind and body strained to the last degree, neither conscious that she was working beyond her strength, nor realizing the extreme exhaustion of her system, she fainted at her work, and found that the raging fever was wasting her life away. So many memories of her rich and glowing sympathies, her warm and loving nature come back to me, that I feel how inadequate would be any tribute I could pay to her worth.
Combined with the stress of campaigning and army life, his wife's death devastated General Francis Barlow, causing him to take a leave of absence. Though he tried, he was never able to return to the army, eventually taking a trip to Europe to recover.
He returned to the United States in March 1865 and rejoined the Army of the Potomac on April 6, 1865, three days before General Lee's surrender. He resigned his commission shortly after Appomattox and returned to New York.