Wife of Confederate General John Pegram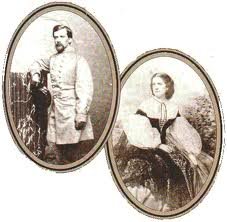 Hetty Cary (1836–1892) was the wife of CSA General John Pegram. She is best remembered for making the first three battle flags of the Confederacy (along with her sister and cousin). Henry Kyd Douglas, in I Rode With Stonewall, described Hetty as "the handsomest woman in the Southland – with her classic face, her pure complexion, her auburn hair, her perfect figure and her carriage, altogether the most beautiful woman I ever saw in any land."
Hetty Cary was born in Baltimore on May 15, 1836. She was related to two of Virginia's most influential families, the Jeffersons (through her mother's family) and the Randolphs (through her paternal grandmother, Virginia Randolph Cary).
When the Civil War began, Hetty gave her wholehearted support to the Southern cause, and did not hide it, even when among Union soldiers. On one occasion, she waved a smuggled Confederate flag from a second-story window as Federal troops marched through Baltimore. An officer of the passing regiment allegedly pointed Hetty out to his Colonel, asking, "Shall I have her arrested?" The Colonel looked at her and replied: "No, she is beautiful enough to do as she pleases."
Hetty was forced to choose between leaving home or being imprisoned for harboring Confederate sympathies. She and her sister Jennie smuggled drugs and clothing through the blockade and escaped to Richmond where they resided with their cousin Constance Cary and her mother, who served as the girls' chaperone. The three young ladies became known as the "Cary Invincibles."
During the First Battle of Bull Run, the similar design and color of the Confederate flag, the Stars and Bars and the Union flag, the Stars and Stripes, led to confusion among the troops. To remedy this problem, Confederate General P.G.T. Beauregard recommended that the Confederate flag be changed.
Constance Cary wrote:
During the autumn of '61, to my cousins Hetty and Jennie and to me was entrusted the making of the first three battle flags of the Confederacy. They were jaunty squares of scarlet crossed with dark blue edged in white, the cross bearing stars to indicate the number of the seceded states. We set our best stitches upon them, edged with gold fringe, and when they were finished, dispatched one to General Joseph E. Johnston, another to General Pierre Beauregard and the last to General Earl Van Dorn. The banners were made from red silk for the fields and blue silk for the crosses.
That flag, commonly called the Southern Cross, features the cross of St. Andrew, the patron saint of Scotland, who was crucified on an X-shaped cross. Thirteen stars represented the eleven states in the Confederacy, plus Kentucky and Missouri – three stars on each leg of the X plus one in the center.
It served as the principal battle flag of the cavalry, infantry, and artillery units in the Army of Northern Virginia from November 1861 until the surrender at Appomattox in April 1865.
Hetty met 32 year-old General John Pegram at a party at his mother's home. He won her heart, and they were engaged in 1862. In December 1864, John's division was sent to the Confederate entrenchments around Petersburg, Virginia.
Hetty's mother, Mrs. Wilson Miles Cary of Baltimore, obtained a pass to go to Richmond to visit her children. Because of her presence, General Pegram urged Hetty not to delay their marriage any longer, and wedding preparations quickly began.
The wedding on January 19, 1865, was a brilliant social affair: the joining of Hetty Cary, widely known as the most beautiful woman in the South, to the gallant General John Pegram, one of Virginia's most eligible bachelors. Dr. Charles M. Minnegerode performed the ceremony. The best of Confederate society, including the Confederate President Jefferson and Varina Davis, crowded into historic St. Paul's Episcopal Church for the ceremony.
After the wedding, the couple went to General Pegram's headquarters in a farmhouse near Petersburg. On February 6, 1865, John Pegram was killed leading a charge at the Battle of Hatcher's Run. A Minie ball lodged near his heart, close to a locket that contained Hetty's picture.
Hetty returned to Richmond on the same train that carried her husband's body. Three weeks later, to the day, John's coffin was taken to St. Paul's, where the couple had been married. Dr. Minnegerode conducted the funeral service and attended his burial at Hollywood Cemetery.
General Robert E. Lee was given command of all the armies of the Confederacy the same day Pegram was killed.
General Lee wrote a sympathetic letter to Hetty:
I cannot find words to express my deep sympathy in your affliction, my sorrow at your loss. God alone can give you strength to bear the blow he has inflicted, and since it has been death by his hand I know it was sent in mercy. As dear as your husband was to you, as necessary apparently to his Country and as important to his friends, I feel assured it was best for him to go at the moment he did. His purity of character, his services to the Country and his devotion to his God, prepared him for the peace and rest he now enjoys. We are left to grieve at his departure, cherish his memory and prepare to follow. May God give us his Grace, that through the mediation of his blessed Son, we may be ready to obey his gracious Summons.

Truly and affectionately your friend
R. E. Lee
Petersburg 11 Feb '65
Hetty's brother-in-law, Colonel William Pegram, was killed soon thereafter, during the Confederate retreat from Petersburg. Hetty stayed with her mother-in-law during her time of grief. A short time later, Hetty and her mother returned to their home in Baltimore. Hetty taught at the Southern Home School in Baltimore for several years.
While traveling in Europe, Hetty met Henry Newell Martin, a pioneer physiologist, and professor at Johns Hopkins University. They were married in 1879. Hetty died at her home on September 27 1892, and was buried at St. Thomas' Churchyard.
I hope she found some happiness in her later life.