African American Evangelist and Missionary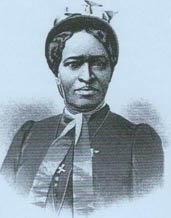 Amanda Berry Smith, a preacher and missionary, was a former slave who became an inspiration to thousands of women both black and white. During a forty-five-year missionary career of arduous travel on four continents, this self-educated former slave and washerwoman became a highly visible and well-respected leader despite intense opposition to women in public ministry, a crescendo of white racist violence and the tightening grip of segregation.
Childhood
Amanda Berry was born in born a slave at Long Green, Maryland on January 23, 1837. Her father, a slave, worked for years at night and after long days of field labor, he made brooms and husk mats to earn enough money to buy the freedom of his family of seven.
The Berry family expanded to include eight more children, and they moved to a farm in York County, Pennsylvania, where their home became an Underground Railroad station. Consequently, their property was closely watched to see if they were harboring fugitives. One night, slave trackers burst in, demanding to know where John had hidden a runaway. The men beat John and tried to stab Amanda's mother.
Amanda had only three months of formal education,
and that at a school for whites, though a few colored children were permitted to attend. I first taught myself to read by cutting out large letters from the newspapers my father would bring home. Then I would lay them on the window and ask mother to put them together for me to make words. I shall never forget how delighted I was when I first read: 'The house, the tree, the dog, the cow.'
In 1854, at the age of seventeen, Amanda Berry married Calvin Devine. The couple lived in New York City, and had two children, one of whom died in infancy. Amanda worked as a domestic servant, but life with Calvin, a drunkard, was fraught with misery.
Not long after the beginning of the Civil War, Calvin Devine joined an African American unit in the Union Army. He was killed in battle in 1863. During this time, Amanda always worked hard as a cook and a washerwoman to provide for herself and her daughter.
Amanda remarried to a coachman named James Smith, and Philadelphia became her new home. She experienced a religious conversion, and joined the African Methodist Episcopal Church. She worshiped at the church where her husband was a deacon. However, Smith proved to be a disappointment as a husband, and the three children Amanda had with him died very young.
Preacher and Missionary
After James' death, Amanda decided to try her hand at preaching in 1869, which met with some initial resistance from the A.M.E. clergy, but Amanda persevered. For the next nine years, she preached in African Methodist Episcopal churches, to gatherings of Methodists and at Holiness camp meetings in New York and New Jersey, becoming a popular speaker to both black and white audiences.
She was a compelling speaker and singer, and wherever she traveled, people responded to her engaging personality and spiritual power. She became well known and opportunities to evangelize in the South and West opened up for her. Wherever she travelled, she wore a plain poke bonnet and a brown or black Quaker wrap, and she carried her own carpetbag suitcase.
By 1870, evangelism was her only vocation. By the end of the decade, she was known as far north as Maine and as far south as Tennessee. She received constant calls for her services at camp meetings, churches and gatherings.
Although she was not ordained or financially supported by the A.M.E. Church or any other organization, Amanda Smith became the first black woman to work as an international evangelist in 1878. Friends suggested that she consider working with churches in England. She responded to this offer, and after a year in England, spent two years working with churches in India.
A Methodist bishop who had served in India wrote:
During the seventeen years that I have lived in Calcutta, I have… never known anyone who could draw and hold so large an audience as Mrs. Smith… I had learned more that had been of actual value to me as a preacher of Christian truth from Amanda Smith than from any other person I had ever met.
After returning to England in 1881, she traveled to Liberia and spent almost eight years in West Africa. There she worked with churches and helped to establish temperance societies. Amanda Smith emerged as one of the A.M.E. Church's most effective missionaries and one of the most remarkable preachers ever known. In the process, she opened the way for other black women to preach in the A.M.E. church.
In 1890, Smith returned to the United States, and after two years of preaching and related work in the East, she settled in the Chicago area. There, she continued to evangelize, and wrote her life story, An Autobiography: The Story of the Lord's Dealings with Mrs. Amanda Smith, the Colored Evangelist (1893), which has become one of the better-known works by nineteenth century African American women writers.
Smith then began to raise money for her latest mission: the care of homeless black children. She published a small newspaper entitled Helper to publicize and support that cause. With the proceeds from her book and donations from supporters, she opened the Amanda Smith Orphans' Home for African-American children in Harvey, Illinois in 1899.
The Amanda Smith Home was the first, and for some time the only, orphanage for black children in Illinois. Over time, the it expanded both in the number of children served and in the size of its facilities. During the ten years between 1900 and 1910, the institution grew from twelve to thirty-three children. The Home was destroyed by fire in 1918, and never reopened.
Smith provided direction and care for the Home until illness forced her to retire in the autumn of 1912. George Sebring, a wealthy pottery manufacturer from Ohio, built his dream city in Florida. He had long admired Amanda's work, and he provided her with a lovely home and saw to it that she had no want or worries for the rest of her life.
From her two marriages Smith had five children, four of whom preceded her in death. Only her daughter Mazie survived to adulthood. In addition, she had adopted two young African children during her travels and ministries in Africa.
Amanda Smith died February 24, 1915, in Sebring, Florida, at the age of 78. George Sebring arranged for her body to be returned to Chicago and buried near Harvey. A group of white clergymen accompanied her casket to the train in Sebring, Florida. On March 1, 1915, one of the largest funerals in the history of the African American community in Chicago honored her memory.
For almost fifty years following the Civil War, Amanda Smith followed paths which led her to prominence as a black woman in a society dominated by white males. She was one of the few African American women to gain visibility in the Women's Christian Temperance Union and was closely connected to the work of the Colored Women's Clubs. These clubs were a major element in the African American expression of the Progressive Movement of the late nineteenth and early twentieth centuries.
SOURCES
Wikipedia: Amanda Smith
The Final Ministry of Amanda Berry Smith