The Year: 1692
On May 12, 1692, warrants were issued to apprehend and bring before the magistrates, "Alice Parker, the wife of John Parker, and Ann Pudeator, widow of Salem, widow." Alice Parker, commonly called Elsie, was the wife of a mariner. Perhaps she had been prone to take melancholy views of the dangers to which seafaring people are exposed.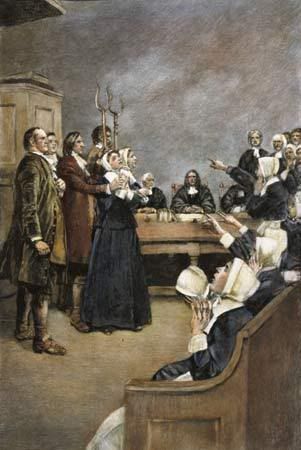 < A Witchcraft Trial Illustration by Howard Pyle (1853–1911) Samuel Shattuck of Salem seems to have been very active in getting up charges of witchcraft against persons in his neighborhood, and on the most absurd and frivolous grounds. Alice Parker had made a friendly call upon his wife, and not long after, one of his children fell sick. He suspected that it was "under an evil hand."
The Trial
Alice Parker, hearing that Shattuck had been circulating suspicions against her, went to his house. An angry altercation took place between them, and he gave his version of the affair in evidence. There was no one to present the other side. But the whole thing has a one-sided, irrelevant character, in no way bearing on witchcraft. All the gossip, scandal, and tittle-tattle of the neighborhood for twenty years back, in this case as in others, was dug up, and allowed as evidence, however remote from the questions belonging to the trial.