Wife of Italian American Patriot
Maria Hautefeuille was born into an established family in Calais, France. Being very willful in her youth, she ran away from home and went to London, where she adopted the name Petronille and married Joseph Martin. Philip Mazzei (pronounced: maht-say) was born in 1730 near Florence, Italy, and practiced surgery briefly.
In 1764, Mazzei rented a large house in London – planning to use the ground floor as a shop, to live on the second floor, to rent out the third floor furnished, and the fourth unfurnished. Before he could rent the upper floors of his four-story house, Mazzei had to have the rooms re-papered. A young man named Joseph Martin was sent by the wallpaper manufacturer to take charge of the job. After he had finished, he asked if he might rent the top floor. It was agreed, and he, his wife, and small daughter Maria Margherita moved in.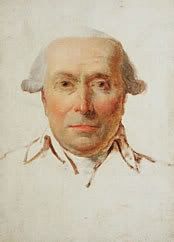 Philip Mazzei Portrait
By Jacques-Louis David (1790)
Soon after the Martin family moved in Mrs. Martin gave birth to a son, who died at the age of ten months, and poor Martin, overcome with grief, died shortly after, toward the end of the year 1764. During the year of their acquaintance Mazzei had become intensely fond of the Martin family, and Martin had begun to look upon Mazzei as his dearest friend. On his deathbed, he begged Mazzei to look after his widow and his little daughter. This Mazzei promised to do.