Posted by Maggie MacLean 3.11.2016
Women Who Settled the Midwest and the West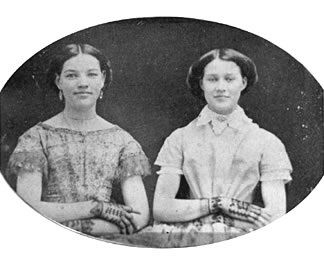 Image:
Mollie Dorsey Sanford
Mollie, left, and her sister Nan
In 1857, the year they moved to Nebraska City
Mollie Dorsey Sanford was a young bride who crossed the plains - from the Missouri River to the Rocky Mountains - during the Colorado Gold Rush. Her diary, published as Mollie, the Journal of Mollie Dorsey Sanford in Nebraska and Colorado Territories 1857 to 1866 (1959), is regarded as one of the most accurate accounts of life on the frontier and an important document in the history of the American West.
Backstory
The Midwestern United States (or Midwest) is a name for the north-central states of the United States of America. The states that are part of the Midwest are Illinois, Indiana, Iowa, Kansas, Michigan, Minnesota, Missouri, Nebraska, North Dakota, Ohio, South Dakota, and Wisconsin.