Posted by Maggie MacLean 10.15.2015
Saving Slaves from Bondage in the South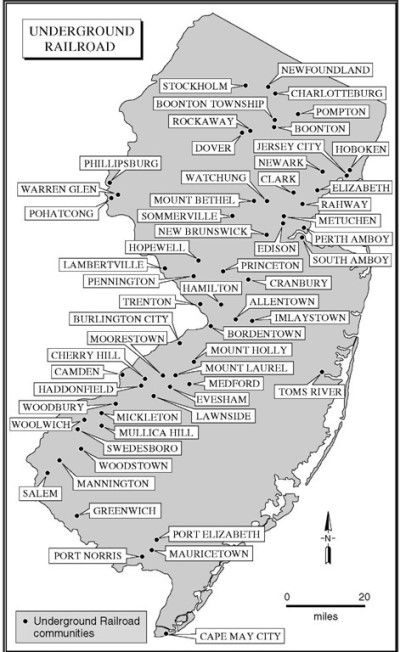 Tens of thousands of fugitives from the slave states of Maryland, Virginia, and North and South Carolina found refuge in New Jersey. Most of them arrived here by crossing the Delaware River under the cover of darkness. Slaves and the courageous people who aided them on their journey risked their lives for freedom. Quaker Abigail Goodwin was one of the figures whose work was instrumental in the success of the Underground Railroad in New Jersey.
Image: Stations on the NJ UGRR
Backstory
New Jersey's path to abolition for all of its citizens was a rocky one. In 1804 New Jersey passed its first abolition law,
An Act for the Gradual Abolition of Slavery
. It freed all black children born on or after July 4, 1804, after serving an apprenticeship to their mother's owner for 21 years for females and 25 years for males. A law passed by the state legislature in 1826 stated that fugitive slaves from other states who were residing or apprehended in New Jersey had to be returned to their owners.