Posted by Maggie MacLean 2.18.2013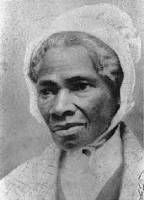 Sojourner Truth was an African American abolitionist and women's rights activist who escaped from slavery in New York in 1826. She began as an itinerant preacher and became a nationally known advocate for equality and justice, sponsoring a variety of social reforms, including women's property rights, universal suffrage and prison reform.
She was born Isabella Baumfree in 1797 on the estate of Colonel Johannes Hardenbergh in Swartekill, a Dutch settlement in upstate New York. She was one of 13 children born to Elizabeth and James Baumfree, who were slaves on the Hardenbergh plantation. Both the Baumfrees and the Hardenberghs spoke Dutch in their daily lives. After the colonel's death, ownership of the Baumfrees passed to his son Charles.